Today we solve one of the questions that arise the fastest when someone asks us what kind of products we sell: what does it mean for a product to be gourmet. A priori it can be thought that a gourmet product is one whose price is higher due to a higher than average quality. However, why is it considered gourmet? where does the price come from? and why is the quality superior? Read on to discover the answer to these and more questions.
What is gourmet cooking and why is it different?
Gourmet cuisine is a type of food that focuses on the best ingredients and the most exquisite presentation. It's a kind of art, where chefs pride themselves on creating incredible dishes from fresh ingredients that are not only delicious, but also aesthetically stunning, bringing out their natural flavors.
Gourmet products have been around for centuries, but have only recently become more popular as consumers become more aware of the importance of healthy eating and sustainability. Thanks to long-lasting products such as preserves, now all kinds of diners, from casual to gourmet, can enjoy a gourmet experience in their homes.
Why are our preserves gourmet?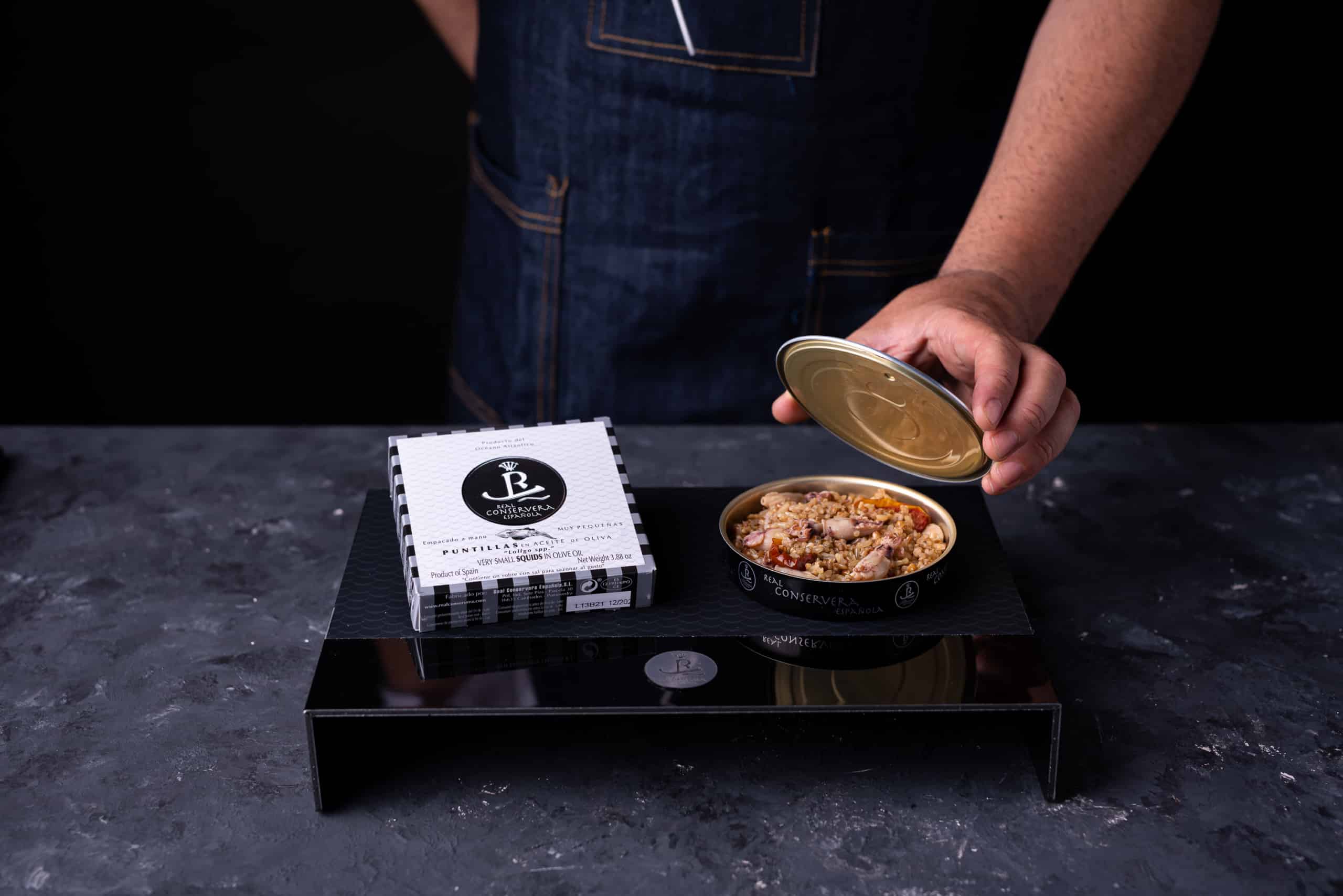 Natural ingredients of the best quality
All our Galician gourmet preserves are made based on natural and local products. Our fish and shellfish raw material is caught only when it is in season, that time of year when the pieces are at their best, at the optimum point of fat and with the best size. Of course, fantastic pieces of seafood and fish can be bought throughout the year, but they can only be found in all their splendor in a very few months of the year. It is then when we work with the raw material, when it is the best that the sea can offer us.
Exclusive selection
However, at Real Conservera Española we go one step further. In addition to making our preserves only at certain times of the year, we also carefully select the pieces of each fish and shellfish, choosing only the best.
In the case of fish we always try to look for the smallest pieces. In our online gourmet store we work with various formats. For example, in the case of small sardines in olive oil, we have the 10/14-piece format (per can), which is already quite a small size, but we also work with the 14/18 and 18/22 formats, the latter being so difficult to find that we can only make a few cans per production.
Shellfish, on the other hand, is selected by choosing the largest pieces. While a 7/9-piece tin is already a very gourmet format, we also offer the 5/7-piece format, a marine treasure that is rarely found at sea.
This difficulty, added to the capture limitation per season, creates a product so exclusive that it can hardly be compared with another on the market. But that's not all. We are aware that we work with a very exclusive raw material with a very high value, which is why we always work with great care.
Handmade process
Once the shellfish and fish pieces arrive at our facilities, we eviscerate them manually, paying attention to each piece to avoid sand or impurities. In our kitchens we prepare all our gourmet recipes, using natural ingredients to bring out all the flavors. Once cooked, the pieces are masterfully placed one by one on the can (by hand) so that the piece of fish does not suffer any damage and that the shellfish maintains all its greatness. Finally, the can is closed and goes through the autoclave to sterilize with steam.
Throughout the entire process, the raw material goes through several quality filters, but it is at the end that we ourselves taste and verify the final result.
It is not easy to create a product as special as our preserves, the whole process entails a great cost that ensures the final presentation. But thanks to this, we are sure that we have the best gourmet preserves on the market.
You can get your gourmet preserves through our online store at the followinglink.