If you're a food lover, you can't miss the opportunity to try one of the most emblematic dishes of Portuguese cuisine: Bacalao a la Portuguesa in our gourmet conserva. Gourmet conservas are a fantastic way to enjoy the best flavors and textures of food without having to worry about freshness and preservation. In addition, the craftsmanship behind the production of our preserves adds a special and unique touch to each bite.
The tradition of Bacalao a la Portuguesa
This is one of the most popular dishes in Portuguese cuisine that has been passed down from generation to generation. Not only is it delicious, but it is also very healthy thanks to the nutritious properties of cod, which is a rich source of protein, vitamins, and minerals. By using fresh and natural ingredients, the quality of the dish is ensured and the environment is respected.
The knowledge of the Bacalao a la Portuguesa recipe in Galicia is due to the close relationship that exists between Galician and Portuguese cuisine, especially when it comes to seafood cuisine.
Both regions share a great fishing tradition and a culinary heritage enriched by centuries of cultural and commercial exchange. In fact, cod is a highly valued fish in both cuisines and is used in a variety of dishes in Galicia and Portugal.
Moreover, Galicia has a long tradition of food preservation, especially of fish and seafood, thanks to the abundance of resources in the area. The technique of preservation has also been passed down from generation to generation and has given rise to a variety of products, including Bacalao a la Portuguesa in conservas.
Many Galicians have emigrated to Portugal throughout history, and vice versa, which has contributed to a greater diffusion and mutual enrichment of the cuisines of both regions. Therefore, the Bacalao a la Portuguesa recipe has naturally spread in Galicia, and Galicians have adapted and perfected it to their taste.
Thanks to our experience and know-how as a canning company since 1920, we have managed to bring the authentic flavor and history of this dish to our gourmet preserves.
An exquisite gourmet preserve
We use only the best cod, which is cleaned and hand-cut to preserve its texture and flavor. Next, it is cooked with potatoes, onion, tomato, and olives in a careful and controlled process that guarantees the maximum quality and freshness of the final product.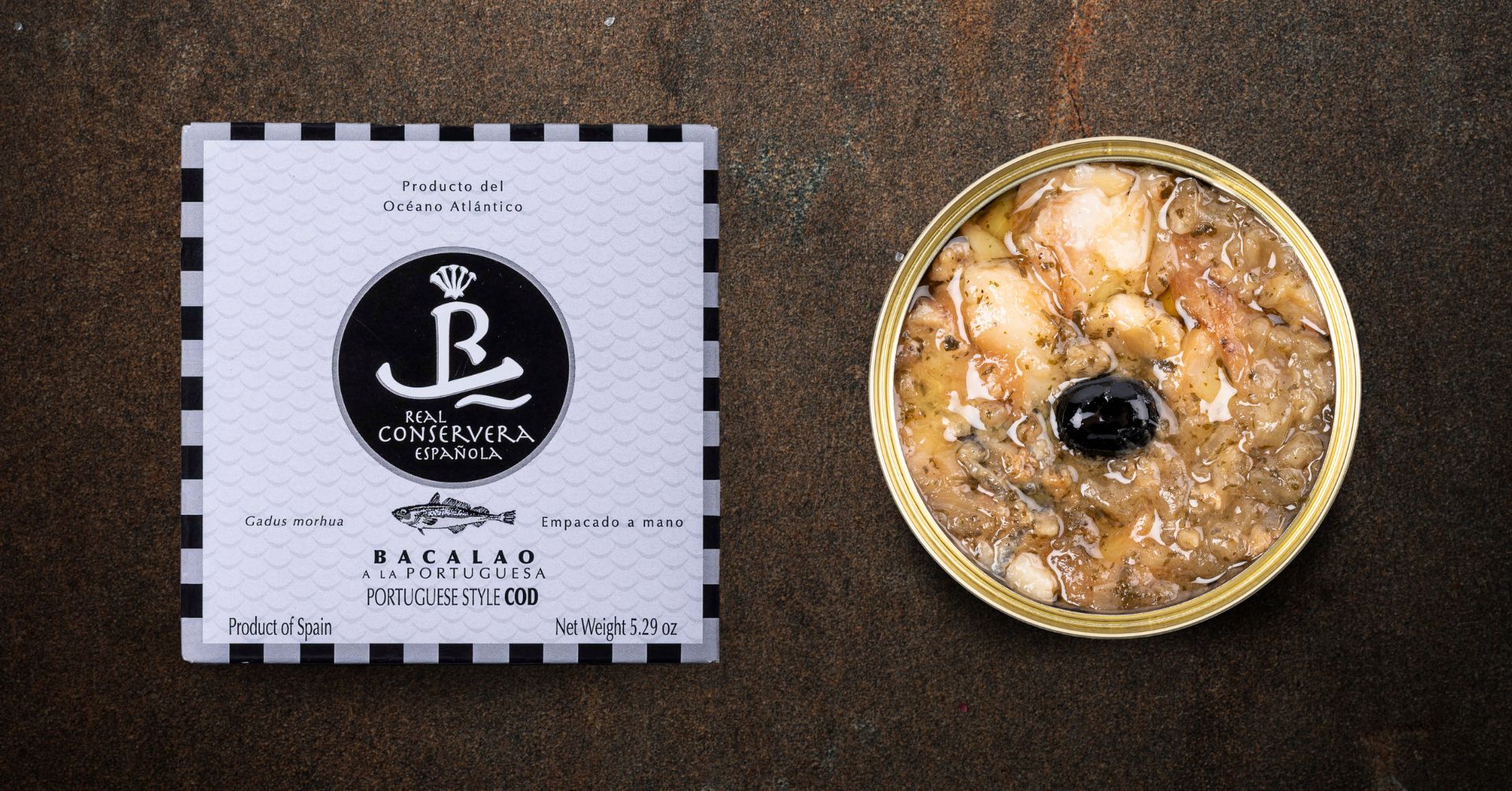 🛒 Clic here to see this product
Craftsmanship is a fundamental part of the philosophy of Real Conservera Española. Each of our gourmet preserves is handmade, which allows us to take care of every detail and ensure the maximum quality and flavor in each bite. In addition, in our commitment to sustainability and respect for the environment, we use sustainable fishing techniques and work with local suppliers to minimize our carbon footprint.
In short, if you are looking for a gourmet and authentic experience, Bacalao a la Portuguesa in conserva from Real Conservera Española is an excellent choice. Thanks to our commitment to quality, sustainability, and craftsmanship, each bite will transport you to the flavors of Portuguese cuisine. Don't hesitate to try it!