In their first year, "2021 World's Best 101 Canned Food Products from the Sea" have recognized Real Conservera Española as the best cannery in the world. Achieving the No.1 Award in several categories.
In 2021, we have been referred to, at an international level, as the flagship of Galician canneries and designated us as the most important reference internationally by the jury.
Of the 7 products we entered, 3 have achieved the Nº1 spot in their respective categories: our Razor Shells in Brine from Galician Estuaries, our Mackerel in Olive Oil and our Sardines in Olive Oil are 2021's best in the world.
As well as; Small Sardines "Limited Edition" 18/22, Sea Urchin Roe, Natural Clams and Pickled Mussels, have been selected, in a blind tasting, among the Top 10 in each of their respective categories, among 350 other candidates.
Every product we entered has been ranked in the TOP 10 of its category.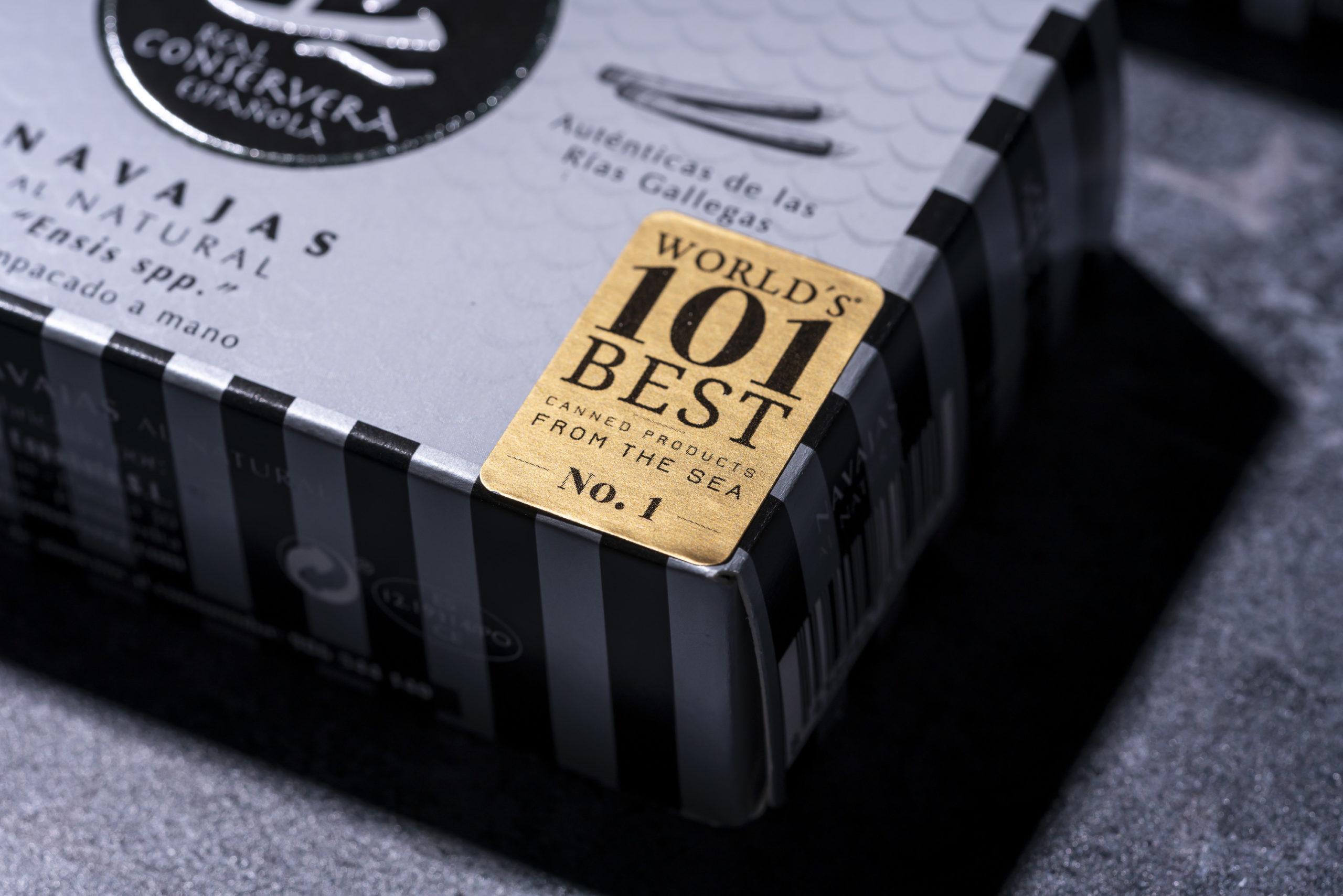 To celebrate, we have decided to reveal the secrets of Real Conservera Española's success.
Would you like to get to know us a little better? Let's go.
Our seafood
We have to start by talking about the most important part The seafood. Some of the best seafood markets in the world are just a stone's throw away from our cannery. Thanks to this, we are able to pick only the best seafood from our Galician coast and bring it in fresh to our factory every morning.
–
Our women
Let's talk about history… Traditionally, canneries in Galicia have been run by women. In the Galician coast, the men would go out to sea and many women would work in the canneries. A job which, in older times, not only provided families with another salary, but, for the first time, gave many women independence, freedom, friendships, dreams, challenges, professional goals…
It is a traditional job which is very important to fishing villages, and is often passed from generation to generation.
At Real Conservera Española, women make up 90% of our work force. From operators, who are in charge of processing our seafood with utmost care, placing them piece by piece in each can… to the logistic department, sales, accounting… all the way to management. Real Conservera cannot express just how thankful and proud it is of each and every one of them.
–
Our Quality
All of our products are canned by hand, in an artisanal way. We do not use any chemicals, preservatives or additives. Even our sauces or covering liquids are made in our own kitchen, by our own cooks, with fresh products and traditional recipes, some with more than 100 years of history. Seafood of this calibre only needs proper care, love and respect.
All of our production processes are certified by IFS (International Featured Standard), a prestigious organization which assesses the quality, transparency and efficiency of each fabrication process in the food industry. Real Conservera is one of the only canneries in the world certified by IFS. Improving the qualification grade each year has been key in getting our products to the top of global rakings.
This and much more is what makes our finished product UNIQUE. Something that is much more than a simple can. A product with history, charisma, which is natural and artisanal and that has helped us become one of the best canneries in the world.
We are very proud and happy, not only to have our brand on the spotlight, but also to bring more prestige to canned seafood and Spanish canneries. We will continue to work with the same passion, with the mentality of things done right and to treat the seafood from our coasts with the love and care that we are known for.
Thank you for your trust. Kind regards from Cambados!
The RCE team.